What is the best coffee grinder? You've probably heard of burr grinders and blade grinders, conical burr, coffee mills, and manual grinders – there are a lot of options. But which one is the best, and what difference does it make?
In this post, we're going to sort it all out, review the best grinders, and help you decide which is best for you.
Ultimate Guide to Coffee Bean Grinders
With all the different coffee grinders out there things can get a little confusing. And with more options come more questions. In this guide, we're going to answer some of the most common questions about coffee grinders (aka – coffee mills) and help sort out what kind will suit you best.
If I miss any of your questions please let me know in the comments, and I'll do my best to answer them.
To get started, let's talk about why getting a coffee grinder is a good idea.
Why Use a Coffee Bean Grinder?
It's easy to buy a bag of ground coffee and it tastes pretty good. So why should you get a home coffee grinder?
There are two main reasons for getting a home coffee grinder:
Improved flavor
Brew options
When you can grind your own coffee at home your coffee is going to taste fresher and you'll have more options when it comes to how you brew your coffee, the kinds of coffee you can make, and how to include ground coffee in your diet.
It's also quick and easy to grind your own coffee beans.
Coffee beans last longer than ground coffee because there is less surface area exposed to the elements (air, light, heat, moisture). Buying coffee beans means you can store your coffee longer and get a better tasting cup when you brew it.
If you want to taste those delicious flavor notes in a great bag of arabica coffee, a good grinder will definitely help.
When you buy ground coffee you're stuck with one (maybe two) brew options, drip and pour-over for example. But when you can grind your own beans you can use the different settings on your grinder to brew everything from espresso to cold brew.
The only exception to grinding your own beans would be when it comes to white coffee beans, they are super hard and could damage your coffee grinder. It's best to buy those beans already ground.
I love the options a coffee grinder opened up, now that I've gotten used to different ways to grind and brew coffee my brew changes with my mood. Maybe espresso in the morning, cold brew on a hot summer afternoon, Chemex for dessert… options are wonderful!
While there are options for grinding coffee without a grinder, most are less than ideal. If you can afford a coffee grinder, we recommend that you pick one up.
Here's how to choose between burr and blade coffee grinders. And manual vs automatic coffee grinders.
---
11 Best Coffee Grinders: 2023 Reviews
In this section, we'll be looking at the best automatic and manual coffee grinders.
Some of these options will have stainless steel burrs and others will have ceramic burrs. You'll see a couple of blade grinder options (at the end) as well.
The type of burrs along with some other details will be mentioned in a bullet list at the beginning of each product description.
What does the espresso grind setting mean? When looking at burr grinders it can be helpful to remember that while some say they have an espresso setting, it may not mean what you think. That setting may be alright if you have a pressurized portafilter or you just like making stove-top espresso in a Moka pot.
But if you're looking for a grind consistent enough for an un-pressurized portafilter you'll want to go with a higher-end grinder, you'll see those burr grinder options noted separately on the following list.
I hope this list will help you find just what you're looking for.
Let's start out with coffee bean grinders that have flat burrs and then we'll look at conical burr grinders.
Tip for flat burr grinders: One complaint mentioned about flat burr grinders is that beans can get jammed between the burrs which would require cleaning. To cut down on that leave the machine running while changing the grind settings. As you switch settings your first little bit of grounds may not be exactly the size you want but it's easier to toss a few grounds than take your machine apart to clear jammed beans.
---
Best Flat Burr Coffee Grinders (3 Models)
1. Cuisinart DBM-8 Supreme Grind
Hopper capacity: 230 g (8 oz)
Number of grind settings: 18
Burr material: ceramic
Grounds bin capacity: 32 cups
Weight: 5.60 lb
The Cuisinart DBM-8 Supreme Burr Grinder is a great entry-level electric flat burr coffee grinder. It's got 18 grind settings from espresso to french press (fine to coarse). So it gives some nice options to enjoy different brew experiences.
The machine automatically shuts off when the hopper is empty. It has a dial for setting the number of cups you want to grind, from 4 – 18.
It also has a manual button which you could use if you only want to grind enough for one or two cups, or if you want to slow the grinding process.
2. KitchenAid Burr Coffee Grinder
Hopper capacity: 199 g (7 oz)
Number of grind settings: 15
Price: Check current price on Amazon or KitchenAid
Burr material: steel
Grounds bin capacity: 199 g (7 oz)
Weight: 10 lbs (4.54 kg)
This flat burr coffee grinder is made of die-cast metal so it's not going to bounce all over your counter while it's grinding. It operates at 450 rpm which cuts down on friction (reducing heat) and helps in preserving flavor/aroma.
The hopper and grounds bin are made of glass which helps reduce static. Some coffee grinders with a plastic hopper and grounds bin can build up static and cause the grounds to scatter across your counter.
With this grinder, you can enjoy brew options from fine to coarse press.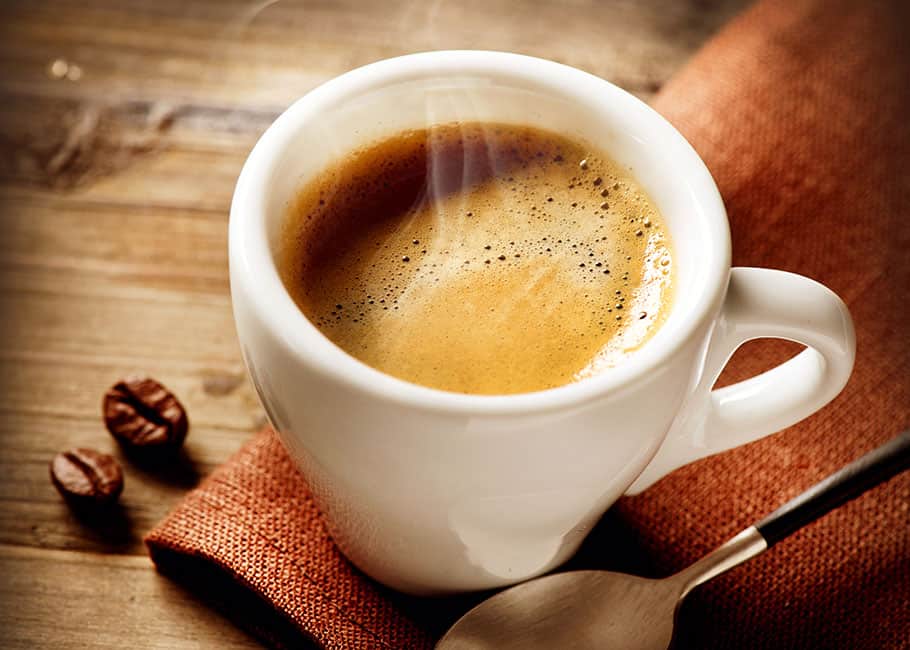 Best Flat Burr Grinders for Espresso
If you're an espresso lover looking for a flat burr grinder the following coffee grinders might be just what you're looking for. They also grind for all other brew options.
3. Baratza Vario Burr Coffee Grider
Hopper capacity: 230 g (8 oz)
Number of grind settings: 200 (between macro and micro)
Price: Check the current price
Burr material: ceramic
Grounds bin capacity: 180 g (6.3 oz)
Weight: 9 lbs (4.1 kg)
The Baratza Vario Burr Grinder is made of quality materials and offers versatility within its settings. It has 10 grind settings from fine through coarse and for each of those, there are 20 micro settings to further personalize the grind. That is a lot of settings.
It also has digital timers and programmable buttons so that you can get accurate dosing and repeatable grind times.
Espresso lovers love this burr grinder, it comes with a heavy-duty metal portafilter holder. It also comes with a holder for regular grounds.
---
Best Conical Burr Coffee Grinders (5 Models)
4. Cuisinart Programmable Conical Burr Mill
Hopper capacity: 1/2 lb (8 oz)
Number of grind settings: 18
Burr material: steel
Grounds bin capacity: n/a
Weight: 4.75 lbs
This burr grinder has a cup selector which is really convenient, you can set it to grind from 1 to 14 cups at a time. This is the grinder our daughter gave us and we're happy with it. I really like the way it shuts off when it has reached the cup selection I've programmed in.
I brew everything from French press to Moka pot espresso with it.
The grounds bin does build up a little static but we just tap it before removing it and that fixes the problem.
5. OXO Brew Conical Burr Coffee Grinder
Hopper capacity: .75 lbs (12 oz)
Number of grind settings: 15 (plus micro settings)
Price: Check current price on Amazon or Bed Bath & Beyond
Burr material: steel
Grounds bin capacity: 110 grams (12 cups)
Weight: 5.6 lbs (2.54 kg)
This conical burr grinder has a stainless steel grounds bin that locks in place. That means the bin won't vibrate out of place, and that your beans won't scatter because of misplacement or static.
It has a timer that shuts off the grinding process when it runs out and one button control.
The hopper has a UV-blocking tint which is helpful if you store your beans in the hopper (although that's not the best way to store your beans). The hopper can also be easily removed without creating any mess.
6. Baratza Encore Conical Burr Coffee Grinder
Hopper capacity: 8 oz (227g)
Number of grind settings: 40
Price: Check prices on Amazon or Seattle Coffee Gear
Burr material: steel
Grounds bin capacity: 5 oz. (142 g)
Weight: 7 lbs. (3.1 kg)
The Baratza Encore is a very popular home coffee burr grinder. The burrs operate at 450 RPM which keeps things cool, not too noisy, and cuts down on static buildup.
It even has a thermal overload cutout which protects the motor from overheating due to excessive use. But you probably won't have to worry about that if you're grinding your beans fresh each day.
Best Conical Burr Grinders for Espresso
The following burr grinders can be used with both pressurized and un-pressurized portafilters.
7. Breville Smart Grinder Pro
Hopper capacity: 1.12 lbs (18 oz)
Number of grind settings: 60
Burr material: steel
While this coffee grinder is for espresso it will grind all kinds of grind sizes – so you can go from espresso (very fine) to french press (coarse) and anything in between.
Comes with two different-sized portafilter holders, a 50-54 mm and a 58 mm. You can grind directly into the portafilter or the grinds container.
This espresso conical coffee grinder comes with an LCD display which shows you the grind setting, grind time and the number of cups or shots you've selected. It has a precision digital timer so you can get a consistent dose each time.
8. Baratza Sette Burr Grinder for Espresso
Hopper capacity: 10 oz (300-400 g)
Number of grind settings: 270
Burr material: steel
Grounds bin capacity: 5.5 oz (160 g)
Weight: 7 lbs (3.2 kg)
This is definitely for lovers of espresso and other fine grind brews (like Aeropress and pour over V60).
It is more like a professional machine designed for home (or light commercial) use. The wide range of fine grinds setting allows for espresso styles including dense, syrupy shots to tea like extractions.
The grinding setup of the Baratza Sette is a little different than most because it does not have a pathway that the ground coffee travels through before being emptied into the portafilter or bins container. The grounds fall directly from the burrs into your container of choice, so there are not as many grounds left in the machine.
Additionally, in most machines, the burr shaped like a cone is the one that spins, but in this grinder, it's the burr that fits around the conical burr that does the spinning, this helps reduce retention.
The grind size is easy to dial in and it has a digital timer that holds 3 adjustments presets. So you can save a few different doses for a variety of uses.
The arms on this grinder can hold portafilters from 49 mm to 48 mm and the grounds bin is anti-static.
---
Best Manual Burr Grinders (2 Models)
All of the manual coffee mills on our list of best coffee grinders will work with fine (espresso) to coarse (french press) grind settings.
They are different than the automatic grinders because some of them have no marks indicating the grind settings, you need to know which grind works for each brew you want to make. The closer the burrs the finer the grind.
Here is a quick break down to help out.
Espresso: fine grind
Drip/pour over: medium grind
French press/Cold brew: medium to coarse grind
With that in mind, you can play around and see what works best for you, with the exception of espresso. When working with a portafilter you'll need to know if it is pressurized or not. If your portafilter is pressurized a general espresso setting should work, but with a non-pressurized portafilter you'll need to be more careful because it needs a more consistent grind size.
There is a learning curve to pulling shots with a non-pressurized portafilter so if you're just getting started it would probably be best to go with an automatic burr grinder designed to grind for espresso, you can find some options mentioned earlier in this post.
The last option in this section is known as the best manual coffee grinder for espresso and would be the one to go with if you are serious about non-pressurized portafilter espresso and trying to pull the best shots.
Helpful tip: When using a manual burr grinder always turn the handle clockwise. This is especially important when it comes to manual grinders that have ceramic burrs. The closer the burrs are to each other the higher the chance of them touching which would probably cause a chip or a crack.
9. JavaPresse Manual Coffee Grinder
Type of burrs: Conical
Burr material: Ceramic
Price: Check current price
Hopper capacity: abt 35 g
The JavaPresse is a great manual coffee grinder, especially for travel. Its slim design makes it easy to fit in a backpack and because it's made out of stainless steel you don't have to worry too much about it breaking when it gets knocked around a little bit. Although it does have a viewing window, so don't get too rough with it.
The handle is removable which is also great for saving space while traveling.
It has 15 grind settings which you adjust by turning an easily accessible dial inside the chamber, you'll hear a click as you change settings.
10. Hario Skerton Pro Ceramic Coffee Burr Grinder
Type of burrs: Conical
Burr material: Ceramic
Price: Check current price
Grounds capacity: abt 100 g
When you ask those who love manual coffee grinders which is their favorite you may likely hear about the Hario Skerton. There are a few Skertons in the lineup but the Skerton Pro is said to be the best.
It has added stabilization which cuts down on inconsistent grind size, especially where other manual grinders fall short – at the coarser grind settings. It also has a burr adjustment which clicks as each change in setting is made.
The Skerton Pro still has all the features of the Skerton and Skerton Plus, like the cover that stops the beans from spilling when your grinding, and the non-slip base which stops the grinder from moving all over the place as you turn the handle, but the stabilization is even better.
---
Best Blade Coffee Grinder
Blade coffee grinders will chop, not grind your beans. They give an inconsistent grind size, create heat (which robs a little aroma and flavor) and are not as versatile as burr grinders if you want the best results for multiple brewing options.
Because of the inconsistent results, they are best used for methods where you'll be using a paper filter like a drip or pour-over brew, unless you don't mind getting coffee grounds in your cup. Personally, grounds tend to give me the jitters and upset my stomach.
I'm mentioning blade grinders last because I think you might be happier with an entry-level burr grinder. It would give you a better quality grind (which ultimately means better flavor) and more room to grow in terms of brewing options.
But with a blade grinder, you can also chop up nuts seeds, and spices without fear.
So if you're in love with blade grinders here are a couple of options. I chose these options because they both have stainless steel blades and a stainless steel removable grinding cup.
11. KitchenAid Blade Coffee Grinder
Capacity: 113 g (4 oz)
Power: 160 w
Price: Check current prices on Amazon or Bed Bath & Beyond
Dimensions: 7.1 x 4.1 x 3.7 inches
The KitchenAid has many of the same features as the above grinder, like the clear lid and removable stainless steel grinding cup. It also has a safety feature in that the power button is on the lid, so the lid must be in place to engage the blades.
Additionally it has engraved measurement markings on the outside of the grinding cup indicating how many cups of drip coffee you could make with the right grind consistency – 4, 8, 10, or 12.
Keep reading: The Strongest Coffee in the World
---
Which Coffee Grinder is Best for You?
Now that we've talked all about what burr grinders and blade grinders are, the difference between ceramic and stainless steel burrs, and whether an electric or manual grinder might be better for you – I hope it will be a little easier to choose your new coffee grinder.
If you have any tips to share, or just want to talk about which grinder is your favorite please join me in the comments. I always enjoy hearing from fellow coffee lovers 🙂
About the Author
Latest Posts
Dena Haines is a co-founder and blogger on EnjoyJava – and is working to make it the best coffee blog in the world.
She also blogs about travel at Storyteller.Travel and photography at Storyteller Tech. Dena is a partner at Storyteller Media, a publishing company she started with her husband, Bryan.